Oldtimer picture gallery. Cars. GAZ-12 "ZIM".
---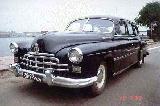 GAZ-12

(data for limousine)
Years of production: end of 1950 - 1959 (ambulances - before 1960)
Overall production: 21527
4x2 6 seat, 4-door 6-light limousine (usually), 4 or 5-door ambulance (14k image), phaeton (extremely rare); Chassisless body
Engine: 90hp/3600rpm, 6-cyl 4-stroke, 3485cc
Length: 5530mm, width: 1900mm, height: 1660mm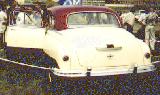 Wheelbase: 3200mm, clearance: 200mm (both axles)
Front wheel track: 1460mm; toe-in: 1.5-3 mm
Rear track: 1500mm
Turning radius: 7.4m
Bore/Stroke: 82/110 mm
Cold clearance between tappet and valve stem: intake - 0.23mm, exhaust - 0.28mm
Hot clearance between tappet and valve stem: intake - 0.20mm, exhaust - 0.25mm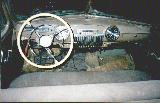 Compression ratio: 6.7:1
Carburettor: K-21 downdraft, duplicated
Battery: 6-ST-68-EM-GOST 959-51, 12V, battery capacity - 68 A*h
Distributor type: R20, contact clearance: 0.35-0.45 mm
Generator type and power: G20, 220W
Starter type and power: ST20 or ST20-U; 1.6hp
Spark plugs type: NA12-15AG; 14mm; electrode clearance: 0.70 - 0.80 mm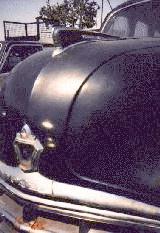 Cylinder firing order: 1-5-3-6-2-4
Clutch: dry single plate
Gearbox: 3 speeds
Ratios: I - 3.115, II - 1.772, III - 1.000, rear - 4.005 (since late 1951 - 3.738)
Differential ratio: 4.55, bevel gear with 2 satellites
Front suspension: independent on cylindrical springs + 2 hydaulical shock-absorbers acting in both directions
Rear suspension: 2 longitudinal semielliptical springs + 2 hydaulical shock-absorbers acting in both directions
Hydraulical all-wheels shoe brakes
Normal flexure of ventilator belt: 10-15 mm
Weight: dry - 1800kg, fuelled - 1940kg
Maximal speed with maximal loading: 120 km/h
Climb: 24 degrees, rear - 18 degrees
Tyres: 7.00-15 inches
Tyre pressures (atmospheres): front - 2.25, rear - 2.25
Fuel capacity: 80 L
Fuel consumption: 15.5 L/100km at 50-60 km/h
Cooling system capacity: 13 L
Oil carter capacity: engine - 7.5 L (including oil radiator and both oil filters); gearbox - 0.9 L; differential - 1.7 L
Price: 40000 Rubles.
---
ZIM means Zavod Imeni Molotova (Plant named with Molotov's name).
Early models (1950) had different front label and GAZ record on front molding instead of usual ZiM. You can see it on the picture, shared by Matthias Stolpe, two GAZ-12 and one GAZ-13 owner from Göttingen, Germany.
Black car on tne 1st image is for sale in Sankt-Peterburg, see Sale page.
---
You can order copies of following books (in Russian) from Tim Shockome, Austin, Texas, USA:
1. 1954 named "Avtomobile ZIM" 327 pages with many drawings. Authors are Yushmanov, Vasserman, Mozokhin and Lipgart.
2. "Avtomobile ZIM". Authors N. Kunyaev, N. Yushmanov. 1953. 208 pages.
---
Decorative fin for hood is needed! Write to Tim Shockome, Austin, Texas, USA.
---
If you have to add, ask or correct me, you are welcome to write me by E-mail Contact. Andrei Bogomolov.
---

Entrance   Gallery   GAZ cars   Sale   Links
---
Last updated 30 I 1999.